We have been here for a long time...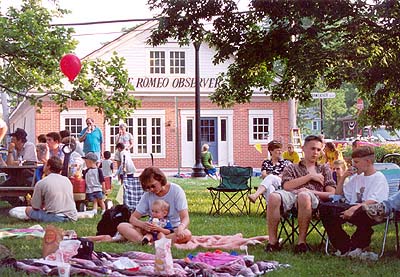 The Observer faces the village park
on North Rawles in downtown Romeo.
The Romeo Observer
was founded in 1866and has been published every week for years. During the 19th century, Romeo was a major community in Macomb County and this newspaper was an important journal.The Observer is community minded, serving not only readers but also businesses and local organizations and is the paper of record for local municipal units. In 1969, a weekly free newspaper,
The Countryman
, was established to cover areas in our retail zone (other school districts) in which Observer circulation was thin. The distribution pattern was determined by local businesses who furnished addresses of their customers.In 1987, a computer database was created for all addresses in the zip codes in the basic
Observer
circulation area. A computer program generates labels for all subscribers in those zip codes. The program then generates labels for all residents who are not subscribers. Non-subscribers receive
Total Marketplace
, which is basically the
Observer
classified pages plus special promotions and inserts. The three editions reach a total of more than 21,000 homes in our retail area by mail or by carrier.In addition to better serving the business community with expanded circulation to cover the retail zone, the
Observer
has improved the product for readers. We now feature full color pictures on the front page and occasionally elsewhere in the paper. We have added the Associated Press wire for news features, writers to augment our local news, and feature coverage.In 2000, a web site was launched to expand and supplement our news coverage and advertising reach.The
Observer
has a long history of serving the people, the businesses and the readers in North Macomb and adjacent areas. We continue to find better ways to serve our customers.The
Observer
is located one block west of the main four corners and one block north of St. Clair (32 Mile) facing the Village Park on Rawles.