You are Viewing an Archived Issue
Posted: 06/24/15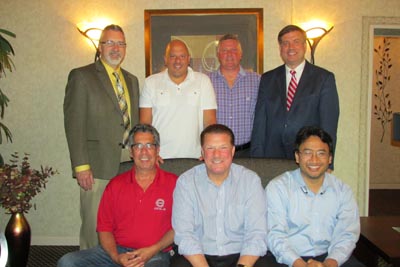 FUNDRAISER FOR BOYS AND GIRLS CLUB. A Meet and Greet fundraiser was held last week Monday to benefit the Stanley Ian Babinski Unit of the Boys and Girls Club of Oakland and Macomb counties. Local officials, friends and supporters of the club gathered at Tina's Country House in Macomb in support of the organization. Pictured from back left is Dan O'Leary, Washington Township supervisor and a founding member of the steering committee; Franco Solina, of the UAW at the Ford Motor Company Romeo Engine Plant who oversees fundraisers; Stanley Babinski, founder of the unit; and Brett Tillander, Chief Professional Officer of the Boys and Girls Club of Oakland and Macomb counties. Seated in front from left is Lenny Amore, also of the UAW at the Ford Motor Company Romeo Engine Plant; Peter Lucido, State representative; and David LeDuc, community liaison for the club.


(Observer photo by Debi Martone)

Babinski's dream helping
local boys and girls continues

by DEBI MARTONE
Observer Special Writer

Stanley Babinski always planned to open a Boys and Girls Club when he was older, or at least retired from his real estate business.
The loss of Babinksi's son to Non-hodgkins Lymphoma in 2010, however, changed those plans dramatically.
Instead of waiting for retirement, Babinski opened the doors of the Stanley Ian Babinski Unit of the Boys and Girls Club of Oakland and Macomb counties just 18 months after his son died.
As a way to honor the memory of his son, Babinski told others of his interest in opening a Boys and Girls Club in the Washington Township area. A steering committee was formed and a location and initial funding was secured. In 2011, the club was founded.
Now, four years later, the club continues to grow and prove its worth in the community. From his initial efforts to get schools, community leaders and other organizations involved, Babinski has been able to offer motivating type of activities to help kids better themselves. Academic success, character leadership and citizenship and healthy lifestyles are the core areas the club focuses in on to help kids, ages 6-18, who are in need of a place to feel safe, to get away from the stresses of life events, or who are just looking for support and guidance.
"Any family can be a healthy family today but you can be stricken with cancer. Your family can be stricken with death, or divorce or other upsetting circumstances," Babinski said. "Sometimes having a place to be removed from that setting, where you feel safe, gives you a rest from that."
Babinski and his staff of professionals, along with older students from local high schools, offer classes and workshops that focus on character building, health and life skills, sports and fitness, the arts and education. Babinski said a lot of focus is placed on encouraging kids to try to do the best they can, especially in academic areas.
"We honor kids throughout the year and reward those who try to better themselves through learning with parties and special prizes," Babinski said. "We believe kids can be encouraged to have good behaviors from watching each other."
Coaches from the middle schools in Romeo also offer conditioning classes for two hours each day for boys and girls who want to get in shape or stay in shape for sports and other rigorous activities.
"This is a win/win for us," Babinski said. "This provides services the kids want and opens the club for those families who aren't completely sure what we are all about to come in and see what we offer."
Since the club is supported primarily through fundraising efforts and donations, no one is turned away because of financial restrictions.
"There are no barriers that would prohibit one kid from not coming here because their family could not afford it," Babinski said. "We don't want to see a mere $25 come between a kid coming here or not."
Typically, the Boys and Girls Club of America organization holds a few major fundraisers each year. However, third party fundraisers help offset the costs of the over 4000 individual clubs located throughout the United States. The annual cost to run a club is approximately $120,000.
A number of fundraisers have been taking place locally to benefit the Stanley Ian Babinksi Unit just as the summer break from school begins the busiest season for the club. While at least 65 kids are visiting the club daily to take part in numerous activities, fundraisers such as a Meet and Greet event, held Monday, June 15 at Tina's Country House, have been held. As 40 kids attend summer camps during the summer months, other fundraisers, such as a Member Mixer, hosted by the Greater Romeo-Washington Chamber of Commerce, and a golf outing, hosted by Buffalo Wild Wings, will take place.
Babinksi said those type of events typically raise from $5000 or more. Scholarships and donations also come from the UAW at the Ford Motor Company Romeo Engine Plant, the Washington Lions Club and local businesses, such as Mortgage One, Heidebreicht Chevrolet, Serra Buick, GMC, Cadillac and Garden Fresh Salsa. The Shelby, Utica and Romeo Kiwanis clubs also help provide scholarships for kids to attend camp in the summer. Westview Orchards also provides a field trip at no cost every year.
The Stanley Ian Babinski Unit is located within the Stoney Creek Community Church, located at the corner of 26 Mile and Jewell roads in Washington Township. The church offers their facility free of charge to the club.
The club is open primarily all year long during weekdays, with hours differing during the school year and summer months. The club primarily serves kids from the northern Macomb County area but Babinksi doesn't put boundaries on his service area.
"If it works out better for the parents or the child to come to this location, I am all for it," Babinski said.
Before Babinski's son passed away, he wrote a list of things that pointed toward the future. Number seven, the last entry on the list, reads, "enjoy life." Babinksi said it is on that premise that he decided to open a club for kids earlier than he had ever expected to.
"We are here to have a positive impact. I wish there was a way we could reach out to people more. But if we can touch one person, that's what we are here for," Babinksi said.