You are Viewing an Archived Issue
Posted: 06/24/15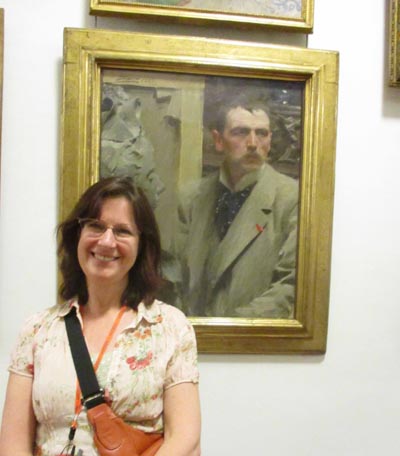 Romeo artist Vianna Szabo recently returned from the Tuscany region of Italy, where she taught a pastel painting class. While there, Szabo visited the Uffizi Museum, where she is photographed in the Varsari Corridor with a painting by one of her favorite painters, Anders Zorn. Szabo traveled with her husband, Mark.


(Photo courtesy of Vianna Szabo)

Local artists return
from workshop in Italy

by DEBI MARTONE
Observer Special Writer

Two local artists visited the Tuscany region of Italy recently to paint - one as a student and one as an instructor.
Vianna Szabo, a longtime painter in Romeo, returned from Italy last week after spending three weeks enjoying the artistic influence and inspiration of Florence. Szabo instructed a portrait and figure painting class, titled Figure in Florence, that was part of a nine-day art workshop held in a studio in the art-rich community.
Szabo, who traveled with her husband, Mark, said visiting some of the great museums of Florence was included in the workshop. The artists visited Pitti Palace, Uffizzi Gallery and Accademia, where the statue of David is housed.
"Florence is very beautiful, as far as the art and architecture," Szabo said.
As a lifelong artist, Szabo found inspiration from not only the abundance of art in Florence but from the beauty of the region as well.
"The light over there is very different than the light here in Michigan, which is interesting because they are the same latitude as we are," she said. "But the light there is very yellow and the air is very clear. It just looks a lot different there."
Szabo said she and the other artists stayed in small apartments in downtown Florence. Every morning they enjoyed a 10 minute walk through the Duomo, a large 13th century cathedral that rises above the city that is filled with statues, paintings and frescos.
"Florence is the heart of the Renaissance, full of the art of the Medici. One of the last members of the Medici family decided all of the art would stay in Florence. It is amazing to see it all in its original place," Szabo said.
The workshop was sponsored by American hosts, artist Debra Zamperla and her husband, Ivano, who is originally from Pisa. Zamperla owns Artensity, an Ann Arbor based company that supports the arts through workshops and exhibits.
Last year was the first time a workshop was held in Florence, which Szabo also taught at. The classes are limited to ten students so the artists have an intimate group to learn with. During the trip the group visited Fiesole, a small Etruscan village that sits high on a hill overlooking Florence, where they decided they will hold a landscape workshop next year.
"Yeah, it's rough to be me," Szabo said.
During the workshop, Szabo instructed students, using pastel and oil, to look for gesture and light in their subject, rather than including unnecessary details.
"We were looking for the visual poetry, which can be expressed through not too much detail but looking for the sense of life and movement in painting a portrait or a figure," said Szabo, who has been teaching art for many years locally and in other areas of Michigan and holding workshops throughout the country.
Szabo said students from all over the world attended her Figure in Florence class, including Bruce Township resident, Lynda Schroeder.
Schroeder has been a student of Szabo for many years. She missed the opportunity to take the overseas class last year, so she was one of the first to sign up this year.
"This was my first time in Italy," Schroeder said. "I knew if it ever came up again I would do it."
Schroeder said she is still trying to digest all she learned overseas. More accustomed to drawing than painting, Schroeder said using pastels went well considering it was a new medium for her. She also found the region very inspiring.
"I was able to hold my own and it went well. I could see what the great masters had done while I tried to understand what she was teaching us. I left saying, `how can I apply what Vianna is teaching us to the artwork I am doing,'" Schroeder said.
Schroeder also looks forward to making a return trip to Italy for Szabo's class next year. Information about workshops and next year's workshop in Italy can be found on Szabo's website, www.viannaszabo.com.