You are Viewing an Archived Issue
Posted: 06/24/15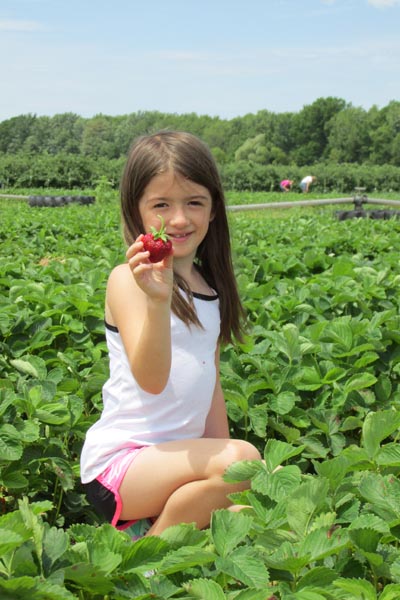 Kayla Sadowski of Sterling Heights enjoyed her first time strawberry picking at Blake's Orchard and Cider Mill last week Wednesday with her mom, Maria. The berries are plump and abundant this year, thanks to all of the spring rain.


(Observer photo by Debi Martone)

Strawberry crops good,
but few cherries, peaches

by DEBI MARTONE
Observer Special Writer

A wet spring has helped plump up the strawberry crop this year.
Since the beginning of last week, jam makers, pie bakers and strawberry lovers have been picking berries at all of the local farms and orchards, where the fruit is plentiful this year.
Dave Blake, manager of Blake's Farms in Armada and Almont, said they are showing a great harvest of strawberries at their three locations. Both Westview and Verellen orchards, located in Washington Township, say the same.
"The strawberries are going like gangbusters here," said Katrina Roy, sixth generation owner of Westview Orchards and Adventure Farm.
Dave Freidli, manager at Verellen Orchards, said the berries started off slow for them this year, but the rain helped them catch up and thrive.
"We will have them for at least a couple more weeks," he said.
All of the farms said the strawberry crop should last until around the 4th of July, at which time the cherries will be ready. Since most of the farms were not expecting to have cherries at all this year due to the harsh winter temperatures, even a smaller crop is a welcome sight. An "okay crop" is being reported but having enough for the you-pick option might be limited farm by farm.
Blake's Orchards is expecting a decent raspberry crop, which should be ready for picking at the beginning of July, while Roy said the raspberries at Westview are struggling.
"The raspberries are not looking so good. They're just hanging in there," she said.
The peach crop, which was also expected to be entirely wiped out this year at orchards in southeast Michigan, showed a small recovery at both Westview and Verellen.
"We are light, and some of our older trees don't have a lot on them, but the younger trees are looking pretty good. We will have a decent amount," said Freidli.
"Depending on where the orchards are located depends on the number of peaches," said Roy. "We will have very few but we are excited to have some."
Since Armada saw some of the coldest recorded temperatures over the winter months, Blake's lost their entire crop again this year.
Instead of offering you-pick peaches this year, Westview has added five acres of you-pick summer vegetables. Tomatoes, a variety of peppers and cucumbers are some of the vegetables specifically grown in you-pick areas of the farm, which is located at the corner of 30 Mile Road and Van Dyke. Contact the farm at 586-752-3123 or visit their website at www.westvieworchards.com.
Verellen Orchards is located at 63260 Van Dyke, just north of 29 Mile Road. they can be reached at 586-752-2989. Their website can be found at www.verellenorchards.com.
Blake's has three locations: Blake's Orchard and Cider Mill, at 17985 Armada Center and Blake's Big Apple, at 71485 North Avenue, both in Armada, and Blake's Almont Orchard, located at 5600 Van Dyke in Almont. Visit www.blakefarms.com or call 586-784-5343 for more information.